RocketCamp: Gravel Tour of Colombia
Jan 30-Feb 6, 2024 | Retiro, Antioquia, Colombia
This is a destination gravel cycling trip of a lifetime! Look forward to some of the most scenic and beautiful riding you will ever do, all gourmet meals prepared by our professional chef on location and beautiful lodging, nestled in the friendly, culture-rich mountains of Colombia.
Sign Up Here!
Lodging
LODGING INFO:
This camp will host 8-12 people.
Bathrooms: 1-3 people/bathroom.
Beds: Option for queen or single beds.
Room set up: Rooms custom to your travel companions. Option for single occupancy, 1-3 singles, couples, or couples +1. (Up to 3 people per room).
Check in: Tuesday, January 30, 2024.
Check Out: Tuesday, February 6, 2024.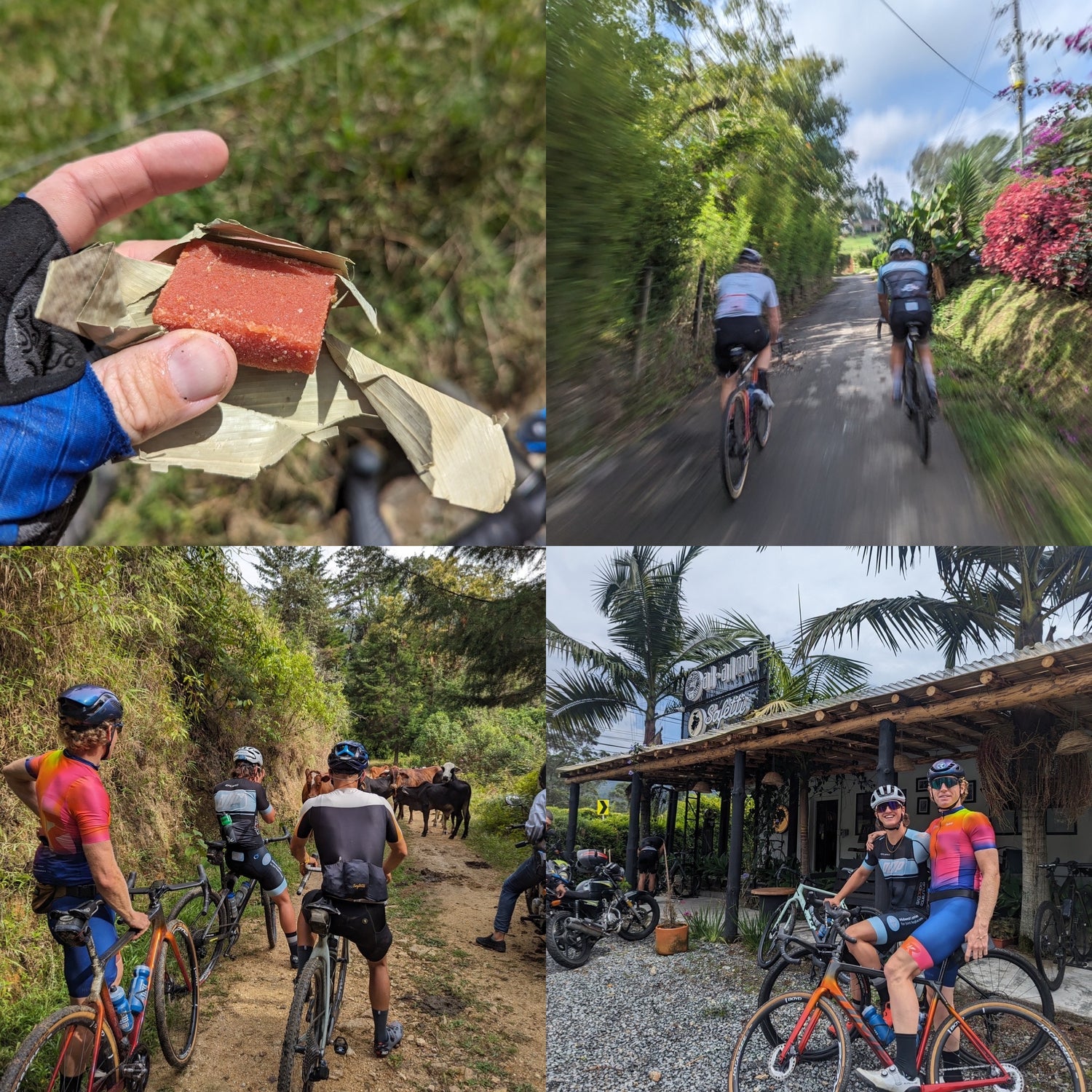 The Ride Vibe
Mount up as the morning fog rises slowly through the 8,000' peaks. Transcend colombian fincas, and pueblos tucked into lush green hillside. Stop in a tienda with a group and grab a postre and your favorite bebida and try your spanish as you converse with the locals who are ecstatic to have cyclists visiting. Trust your ride guides and follow moto for descriptions and safe passage through each subida and descent. After a good day on the saddle, drop your ride with the mechanic so you can both get some R and R.
Sign Up Here!
Off-The-Bike-Food
Our in-house, professional, local chefs prepare authentic Colombian breakfast to power you ahead of each ride. After a cultural adventure on the bike, stop at the house's cafe at the edge of the property, where our chefs will be expecting you, and enjoy lunch al fresco. Take a nap, stretch your legs, and enjoy a beverage while chefs prepare a dazzling dinner for you at the house.
Sign Up Here!
Routes
This is what we came here for, the rides of a lifetime! These are the gravel adventures of your dreams! Plan on 6 days of riding, these are just examples. These routes have all been ridden by us and are AMAZING! We will tailor make the routes to suit what you want to get out of each day. Below are some standard routes that range from 18-84 miles. Each day will be 1000+ feet of climbing per 10 miles, so plan on climbing!
Day 1: Route Here
Day 2: Route Here
Day 3: Route Here
Day 4: Route Here
Day 5: Route Here
Day 6: Route Here
Sign Up Here!
Pricing
PRICING:
7 nights of lodging and 6 guided fully supported rides. All meals and ride food included. Airport pick up and drop off. Bike maintenance support on site. You ride, we take care of the rest!
You are only responsible for your flight in and out of Medellin, Colombia.
Pricing: $2999* per person 
$350 non-refundable deposit required to hold your spot. Payment plan options available.
*$2,699.00 per person for groups of 3 sharing a room