Q&A
For those of you who haven't heard or who are new here, meet our recent staff addition, Coach Georgina! Below is a little Q&A, so you all can get to know her a bit better!
What is your favorite meal? Chia Pudding! (keep a lookout for the recipe coming soon!)
What is a difficult obstacle you have had to overcome? Self doubt and confidence! Believe it or not I'm very introverted and confidence has always been a little low. Self doubt means I tend to shy away from asking for what I want. I've worked really hard on both and now confidence continues to grow and self doubt is in check. It's a daily check in I still have to do though.
What is your favorite thing about being a coach? There are so many things but I really love when clients realize their own potential. As someone who has had to work on that myself - it makes me really proud when clients reach that point too. The transformations and seeing them living their new lifestyles are really great too - very humbling and makes me proud as punch!
Tell us a random fun fact about yourself. I train my dogs for competition and not just pet obedience. Noah has his first leg of his CD Title and Sidney will step into the ring when old enough too!
Contact Coach Georgina Today!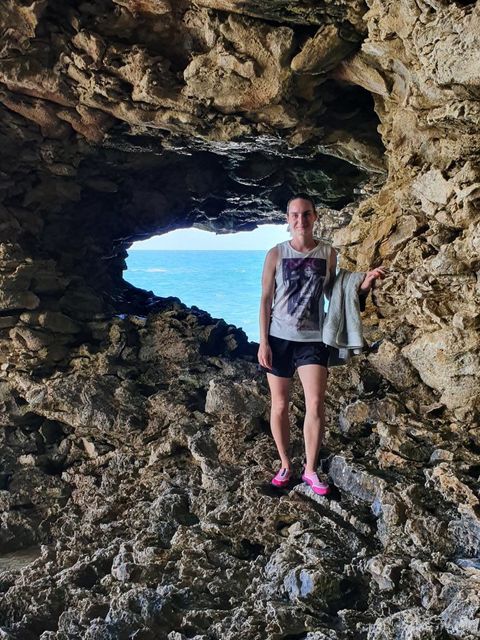 More About Coach Georgina
"I have always been in some kind of sport my whole life whether it was swimming, dancing, cheerleading, horse riding/jumping, marathons or body building! There was always a love of sport, health and fitness and so naturally I became a personal trainer at age 16 and haven't looked back since!! My sporting experience saw me come 3rd in Australia for bodybuilding before retiring on a high and moving to the UK to start my love of traveling. Which is where I picked up a love of running and completed The New Forest Marathon and London Marathon! Having a heart condition, asthma, eczema and IBS I was always told as a kid I had to be careful. Which I think is why I'm such a rebel - I wanted to see what my body could do and how far I could push it. So I made that my mission: to push the boundaries and now my medical conditions don't hold me back.
In London I found a deeper love for Reiki, meditation and all things woo. However, since moving to Barbados it has grounded me and heightened my abilities even more. My coaching approach is more of a holistic one making sure mind, body and spirit are all in tune to help make lasting success. I encourage focus, habits and awareness while nourishing creativity, emotional strength, self confidence, positivity, spiritual and physical/mental well being. I really do believe the mind is so powerful and if we can get our mindset right - our body is capable of anything! 
I believe connection to our practice as well as others is important for our body, mind and spirit and would love to connect with you to help play a part in your personal growth, physical & spiritual development as well as overall happiness! ☺️"
Contact Coach Georgina!